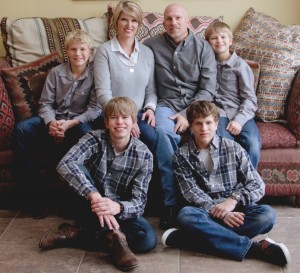 It's hard to start over in a new place, with new people, again and again. It gets very lonely.
That was my life, all I knew until I went to college. My dad was a career Army soldier, and as his dependents, our family followed him around the world to new duty stations every three years. Just about the time I would get comfortable, feeling like I knew what I was doing and forging relationships with my peers, we would set out on a new adventure.
I graduated high school at a Department of Defense school in a little town called Zweibruecken, Germany. The President at the time, Clinton, had decided to draw down American forces in Europe, so I watched a steady stream of people leave during my junior and senior years. By the time graduation rolled around, our class was down to 49 people. It was a hard couple of years, watching people leave on an almost daily basis.
My parents let me make the decision on where to attend college, and for purely economic reasons I chose Texas A&M University. I had been offered a full academic scholarship there, one that paid for everything. As a poor kid whose parents had told me at age 12 that I had to work hard in school to be able to go to college, it was a dream come true. But I was nervous…my high school had never had more than 1500 people, and here I was going to a university with over 50,000, and I had never even visited Texas. What would happen to me?
At A&M, I found a place to fit in. I joined Student Council, my dorm government, a theater group and other interests I discovered. Never having actually attended a football game in high school, I found the A&M football experience exciting and impressive. But I knew college was temporary. My scholarship paid for four years, so I had to finish in that time, which I did. I majored in political science, because having seen other forms of government, I know that our American system is the best.
During college, I met a guy, Kyle Cobern, and it got serious. We married in July 1996, when I was a junior. It was never an option to not finish my degree. He had graduated already and was living back in his hometown of Hurst, so we had a long-distance marriage for a year and a half while I commuted back and forth to College Station. I enjoyed Kyle's family and loved visiting their home in Hurst, where they had lived for over 35 years at the time. They had some upheaval, as their home was one of the homes affected by the Northeast Mall expansion, and I watched my father-in-law shine as the head of their homeowner's association, where he made decisions based on the good of the many and of the City of Hurst.
Upon graduating, I joined my husband and we settled in a series of apartments around Tarrant County, first in Bedford and then in Fort Worth. We had our oldest, Brady, and then Caden joined us a couple of years later. Kyle got a job in Houston and we moved. Two years in Houston was all I could take. People weren't friendly and it was hard to be away from family with two small children. So when Kyle was offered a job back in the Metroplex, we jumped at the chance. I was pregnant with our third son, Jaxon, and was put on bed rest immediately when we returned. We didn't have a chance to buy a house until after he was born, so we lived with my in-laws in their house they'd purchased after the mall expansion, still in Hurst.
When looking for a house, we looked all over HEB. However, we kept coming back again and again to Hurst. With three small boys, we wanted a family-friendly city, and Hurst had the programs at the Rec Center, the Aquatics Centers and the sports programs in the area. We were already involved with MidCities PeeWee Football and Cheerleading Association, based in Hurst, so we knew there were many things for kids to do there.
We bought in north Hurst, four miles from my in-laws, and have never regretted it. As an Army brat, I have lived and visited all over the world. I have seen places as diverse as the Pyramids of Egypt and the Harbour Bridge in Sydney, Australia. I speak German. I have friends around the globe. I could choose to live anywhere. Yet I choose to base my life here in Tarrant County. Tarrant County has become my home, with wonderful friends, incredible programs and a great location. I love having my roots digging into the North Texas soil, and raising my sons here.
The more we got involved in the programs and activities, the more intrigued and interested I became in the organization that ran them. I began to realize how successful Hurst was in terms of structure and organization. I volunteered with the City to join a board, and was assigned to the Neighborhood and Community Advisory Board, where I served for over two years and helped draft an important ordinance for inspecting rental properties in Hurst. This ordinance protects both Hurst residents and our property values. I applied for the Hurst 101 program to learn more of the inner workings of the City government, and became the program Valedictorian for 2015. I made a lateral move to the Library Board, and have enjoyed being involved with the programs happening there, as I practically lived at the Hurst Library when my sons were small!
As a resident, as a mother of four children raised here, as an enthusiastic volunteer in the community and as a teacher in the HEBISD, I learned the value of being part of what's going on in the City. In 2016 that led me to a decision to take the next step and become a more permanent part of the decision-making process by running for election to the Hurst City Council. I am thankful for the overwhelming support in being elected to serve my city, but now with the unexpected opening in our Tarrant County Tax Assessor-Collector's office, I believe that I can bring my conservative and frugal values to help our county.
I get asked all the time why I don't go "home" to West Monroe, where the rest of the Robertson family lives. My answer, for so many reasons, is that "West Monroe isn't home, Hurst and Tarrant County is".
Click here to view Trasa's WFAA Good Morning Texas Video Introduction
Also, check out Trasa's Personal Stories or her Service & Experience.