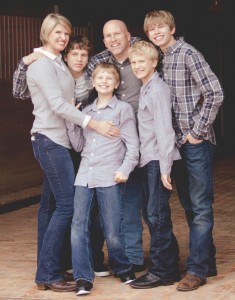 Dear Friends and Neighbors,
Thank you for visiting my website to learn more about my campaign for Hurst City Council Place 4. I am excited about the opportunity to serve our community on our City Council.
Service is and always has been important to my family and me. My grandfather James Robertson and my father Silas Robertson, both served in our nation's military, protecting the freedoms we cherish. My in-laws, Corky and Sina Cobern, have served the HEB community in myriad ways, including over 30 years on the Board of MidCities PeeWee Football and Cheerleading Association (MCPWFCA) and as the President and later Lifetime Member of the PTA at Hurst Hills Elementary. Their examples have inspired me, and I have volunteered in HEB since we bought a house in Hurst in 2004. I have and am still a PTA volunteer at several local schools, serve on MCPWFCA's Board, and am involved with Hurst City government.
A change is coming to Hurst. Our longtime City Manager, Allan Weegar, is retiring this year, and so things will be changing at City Hall. Hurst is getting close to being 100% built out, and we as a city are going to have hard choices to make about our forward progress. While Hurst is rolling out its "Welcome to Hurst" campaign celebrating our unique, small-town nature, we will also need to address the successes and problems of a small town inside a large metroplex, who has the staff and budget of a corporation.
I am the right person for Hurst in this potentially turbulent time. As a volunteer, as a mother of four, as a teacher and as someone with wide experience of the world, I bring my own varied perspectives and the ability to consider others' viewpoints to the table.
I will maintain the congenial nature of the Council, as all of the current Councilmembers are warm people who are pillars of the community, and I look forward to working with them. I will stand for reducing waste in our expenditures and for tightening our belts just a bit to save for the future. I firmly believe in the transparency of government, and the need for the next generation of civically minded volunteers to keep our City strong.
Vote Trasa Robertson Cobern for Hurst City Council Place 4. I am committed to growing my family's roots deeper into Hurst. Despite a very busy home life and professional life as a high school teacher, I choose to spend my free time to improve the quality of life here in our beloved City. I will continue to serve the community any way I can, but would be honored by your trust if you choose me to be your next Councilwoman.
Sincerely,
Trasa Robertson Cobern